Composers/Performers, Art && Code Saturday Night Performances.
http://loudobjects.com/

The Loud Objects' web site
The Loud Objects have set the standard for performative live circuit bending. Wielding soldering irons over a ramshackle overhead projector, the New York City-based trio wire up live musical circuits in pursuit of lo-fi electronic noise. The Loud Objects (Kunal Gupta, Tristan Perich, and Katie Shima) have staged their lush noise constructions at electronic art festivals, Brooklyn house parties, alternative galleries, and the trunks of cars in Providence, skirting between the worlds of circuit-bending, chiptunes and noise rock. This Fall, the Loud Objects merge storytelling with digital hardcore on their Orb of Scheldenn mini-tour.
Biography
"The Loud Objects, the trio who opened last week's [Bent] festival, elegantly brought a circuit to noisy life on an overhead projector…" — Jesse Jarnow, Associated Press
Graduates of Columbia University, Kunal Gupta, Tristan Perich and Katie Shima have been performing as the Loud Objects since 2005. Their earliest performances merged sound and light with microchips against a bright light box. At the 2005 Bent Festival, they premiered the now-standard version of their performance: live soldering the sound circuit from scratch on an overhead projector. In 2008, they began experimenting with very short performances of continuous noise on a 24-light bulb fluorescent podium, and recently fluorescent light bulb guitars backed by noise choirs.
The Loud Objects have performed in the USA and abroad at festivals including NIME ('08, NYC), Evolution ('08, Leeds UK), Bent Festival ('06, '07, '08, NYC, Minneapolis, Los Angeles), Blip Festival ('08, NYC), Electric Eclectics ('08, Canada), Festival Della Creativita ('08, Italy), Piksel ('07, '08, Norway), High Mayhem ('07, Santa Fe). They have also performed at the Stone, Issue Project Room, Death By Audio, and toured Japan and the USA. They perform primarily as solo acts, but also in duets with vocalists, drummers, susophonists, tuba quintets, laptop musicians, painting machines, manatees, and recently as movie soundtracks.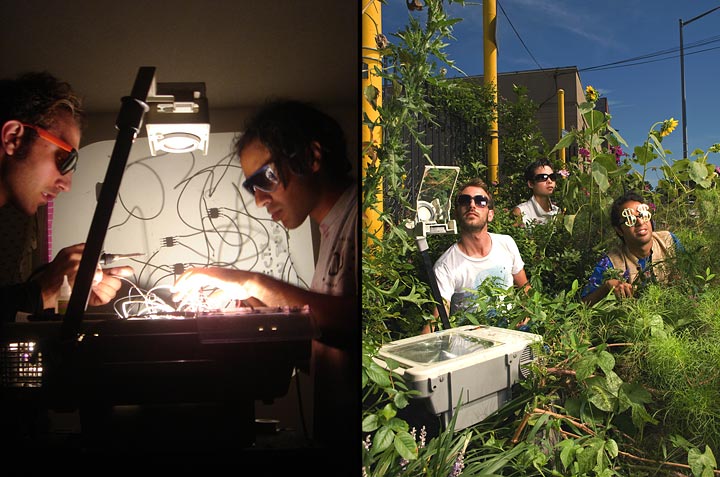 ---
More Presenters at Mobile Art && Code